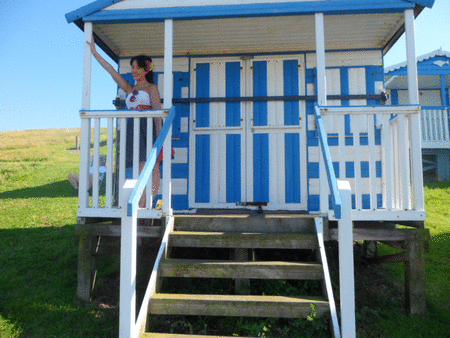 The sunshine has finally made a much awaited presence in england! If you're reading this from a far away distant land as lots of you do! you will be sad to hear that us folks in England have been subjected to the wettest summer in HISTORY.
Yes history, how depressing is that? and you know what?
It has felt like a never ending season of clouds, rain and mediocre weather...but ALAS! the sun came out yesterday and granted us a day of sheer bliss.
Boob Tube- Matalan
Skirt- Forever 21
Belt- Camden Market
Clutch- Nine West
Pumps- Primark
Sunglasses- Topshop
Not one to let a day like this go to waste me and Jon
ventured down to the nearest beach/seaside in Kent and we decided on Tankerton.
I'm not too sure if I have previously explained my affinity of the sea....
well....it makes me insanely happy like a child whenever I'm by one.
Tankerton's beach is so lovely! and I now seriously want to purchase a beach hut when I get some serious money, lots of people were napping in them, or making tea or kicking back and reading outside them- how very quaint!
Dream House
Instagram Round Up.
x Rebecca x
♫ ♪♫
Todays's title and lyrics are inspired by my favourite summer song by
Caro Emerald- Riviera Life.
♫ ♪♫